EHS Management Systems
Overview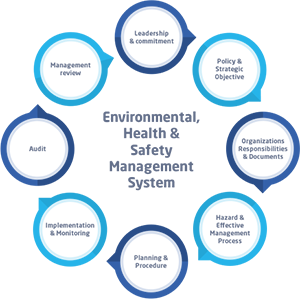 EHS-Solutions reviews cost-effective methods of EHS compliance with our client, and demonstrates how implementing and managing site and workplace safety will save money. Our goal is to reveal how much you can save.
An EHS-Solutions' experienced representative will tailor a safety management system to fit your project and business needs. After a free initial consultation and needs review. We will work with you to determine the best way to implement or improve safety at your workplace, and do so per your budget and timeline. We will work cooperatively with your current safety staff to enhance their effectiveness, or we can act as your outsourced safety provider.
EHS-Solutions leads the way in self-reviewing and updating safety management systems. Optimizing at all levels of business from small manufacturers to large corporations, our highly qualified EHS specialists will work with you to develop and implement customized safety management system solutions for every job target.

Furthermore, we provide superior training packages using cutting edge technology and high production values for each management system to inspire and focus your employees and ensure lasting comprehension and application of safety procedures.

Worksite success requires fully implemented, effective, and auditable EHS management systems that function throughout every phase of construction, commissioning, or shut down of operational facilities. We have developed several key management systems to address the universal environmental, health, and safety needs of businesses, while retaining customizable options for specific business and regional considerations, allowing EHS-Solutions to provide the perfect management system for your project and your company.